About Tim and Miriam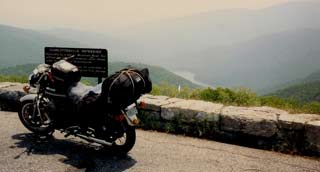 Tim and Miriam have been riding motorcycles for many years. They ride a lot. They ride locally as often as possible Ė to events, to breakfast, to dinner, to just ride around. To date they have vacationed via motorcycle in 47 states, including Alaska - all except Delaware, South Carolina, and Hawaii. They have traveled through all Canadian provinces along the U. S. border from British Columbia to Prince Edward Island and Nova Scotia. They like to ride!!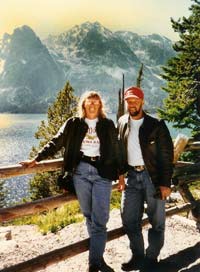 Tim has been riding motorcycles for 35 years. Now retired from his 32 years with SBC, he is pursuing his motorcycle interests full time. In addition to riding, he is continually improving their private collection of British and Italian bikes. He also attends a full calendar of motorcycle club activities and rides, rallies, swap meets, meetings, bike shows, etc. He is a member in several motorcycle clubs and organizations (AMA, CNOC/INOA, MACMC, MGNOC, RAT), holding a club officer/representative position in a few. He is a great contact when you need a link to club activities, motorcycle parts and service, or a nice route for a daily ride.
On the Riderís Choice Board of Directors, Tim is the perfect Motorcycle Enthusiast since he specializes in his motorcycle-related connections and he is familiar with all types of motorcycles. He is also the perfect advisor for what a motorcycle rider expects of his/her insurance agency.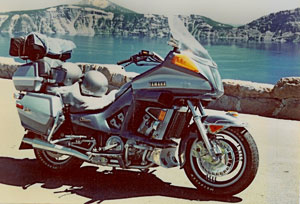 Miriam has been Timís passenger on the above mentioned motorcycle riding adventures since 1985. She has been driving her own motorcycle locally since 1996. You will also meet her at many club activities and rallies. She is also retired from her first career of 23 years with Lucent Technologies, where she was a Product Management/Marketing Manager. Her second career began with 2.5 years as a financial representative with Primerica, a Citigroup company, where she helped families with debt management, life insurance, long-term care insurance and investment planning. Her attention is now solely with Riderís Choice.
Over the last 20 years, since she met Tim, Miriam has developed an expertise in acquiring the most appropriate and cost effective insurance coverage for their ever-growing personal motorcycle collection. Her insurance expertise is now available to the entire Riderís Choice client family, as she is the full time, licensed insurance agent for Riderís Choice.